Postgraduate Diploma in
Postgraduate Diploma in Education
Africa International University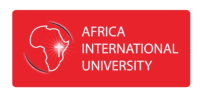 Introduction
This is a professional program of study offered to those who intend to teach or administer diverse educational programs but have not gone through the required professional training in education. It is a one-year program. It provides an in-depth exploration of topics and competencies that are required for teachers in diverse educational environments. The program is intended to help the participants to critically plan, design, and implement educational programs that cater to diverse learning preferences and contexts.
The program is recommended for those who intend to seek to license with the Teachers Service Commission (TSC). It costs Kshs.75, 000.00 ($750) tuition fee. The requirement is an undergraduate degree with at least 1st class/2nd class Honours (upper division) or lower division with 2 years working/ministry experience. One can take the full time, holiday, or evening classes.
Admission Requirements
Admission and conduct of postgraduate programs shall be conducted under the provisions of the general postgraduate regulations.
The following shall be eligible for admission into a postgraduate diploma program in the University:
Holders of a Bachelor's degree from Africa International University and other Universities recognized by the AIU Senate,
The postgraduate diploma programs in all schools shall extend over a period of at least 12 months from the date of registration and a maximum of 24 months.
When to Apply
Applications for the regular programs normally close on the 15th of December for the January intake, 15th April for the May intake, and 15th August for the September intake.
For international students to be accepted in the September intake, your application form should have been sent by April, for January intake you should have sent your application by September, and for April intake you should have sent your application form by January.
For the School-Based programs, your application should reach us not later than 10th March for the April holidays, 10th July for the August holidays, and 10th November for the December Holidays.