Summer courses in
Disrupting Finance with Digital Technologies
EIT Digital Summer School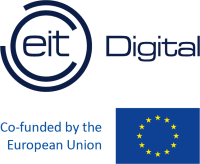 Introduction
There will be different courses, visiting start-ups, and pitching. The program will start by building different teams under the supervision of the coaches and mentors. The companies that are participating in this program will present various case studies. Participants will learn how to write a business plan for their cases and will be pitching at the end of the programme. The program will offer a start kit with all the information needed beforehand.
The summer school will take place at EIT Digital's Madrid location centre. Accommodation will be provided in Madrid's city and during the weekend, a trip to one of the most beautiful sites in Spain will be organised, allowing participants to see the fascinating Spanish history and enjoy traditional food.
Ideal Students
The Summer School is open to young professionals as well as Bachelor or Master students, who want to deep-dive in emerging digital technologies and learn how to turn these technologies into business. This will enable them to become innovators in the field of Disrupting Finance with Digital Technologies, as designers/developers/others in start-ups or larger companies.
As the programme has a focus on business innovation and entrepreneurship, there is no need to have specific technical backgrounds or any coding knowledge to join our Summer School.