Summer courses in
Innovative Digital Technologies for Health
EIT Digital Summer School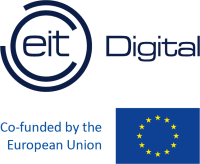 Introduction
This 2-week Summers School will train ICT young talents in Europe in the e-health sector, both from a technological perspective and an entrepreneurial/business perspective. It contributes to their professional profile, as employees in industrial R&D teams and as new entrepreneurs for new product ideas potentially emerging during the project work of the summer school.
The format is based on team-building activities (workshops and social events), lessons, case studies, and visits to e-health labs and e-health adopters.
Ideal Students
The Summer School is open to young professionals, as well as Bachelor, Master, or Ph.D. students, who want to deep-dive into emerging digital technologies and learn how to turn these technologies into business. As the programme focuses on business innovation and entrepreneurship, there is no need to have specific technical backgrounds or coding knowledge to join our Summer School.
Curriculum
The program will introduce the participants to the following contents:
Advanced ICT for health: AI methods and tools for health data analysis.
Software/hardware technologies for health: biosensors for mental/physical monitoring, X-Reality for surgery/motor and cognitive rehab.
Surgical/Rehab/Assistive Robotics, Ecological telemonitoring and telemedicine; conversational tech and smart objects for speech therapy.
User-centered design/evaluation of e-health.
Healthcare Innovation: Communication, Management & Entrepreneurship.
Program Outcome
Speakers from Politecnico di Milano (ICT unit and bio-engineering unit) and speakers from health centers and industry will guarantee high-quality lectures. The programme will benefit from the network connections of Politecnico di Milano with industrial partners - S&Ms, startups, and therapeutic centers, also thanks to the recent creation of a set of JRCs (Joint Research Centers) with the most important hospitals and rehabilitation institutions in Milan. Social events will include aperitifs in the 18th-century cloister of the university's main campus, and visits to major cultural attractions in Milan (e.g., Cathedral and Sforzesco Castle) and in the surrounding areas (e.g., Como Lake).