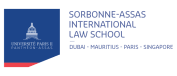 Sorbonne-Assas International Law School - Paris
Home ›
France ›
Sorbonne-Assas International Law School - Paris
Paris 2 Pantheon-Assas University is the heir of the former Faculté de Droit et de Sciences Economiques de Paris since the 13th century. The University is nationally and internationally recognized as one of the top French universities in Law, committed to ensuring the highest level of excellence for all fields of Laws.
Whether in Dubai, Paris, Mauritius, or Singapore, all programs are taught in English by Professors of Law from Paris 2 Pantheon-Assas University and professionals acting in the legal field coming from France, Europe, Asia, and Africa. All programs strongly focus on case-studies and the deepening of key subjects in a transversal and multidisciplinary perspective.
The LL.M program (delivered in Paris) prepares students and professionals to master important cross-borders mergers or financial transactions, funding, restructuring, LBO, financial engineering, and industrial projects. These transactions are fascinating as they raise many difficulties and lead to the adoption of innovative solutions. Their study and the analysis of the legal, financial, and accounting issues they raise are particularly formative. Students and professionals will tackle different viewpoints and, in a very interactive way, the contracts, the guarantees, the funding, or the settling of international trade disputes, to quote key areas.
Locations
Île-de-France
Address
Place du Panthéon,12
75005
Île-de-France
,
France
Programs
Currently no programs to display
Please refine search above, check out our popular categories below or perform a keyword search.
... or simply by choosing your degree: